In 1989 I returned to college to complete my degree at Fontbonne University in St. Louis, Missouri. I had wanted to be a sculptor since I was five years old, but I wanted my husband and children first. If we live long enough, some of us get to have it all.
By the time I finished my Master of Arts degree in 1995, I had been awarded a commission for a life-size sculpture of St. Monica and soon began teaching Sculpture and Figure Drawing part-time at a local community college. As you can see in my List of Commissions, many commissions have followed.
Being a sculptor can be a grueling and unsteady way to make a living. But with a loving and supportive husband and family, I remain in this life of feast or famine, joys and struggles.
I thank God for everything.
Our Family, Christmas 2021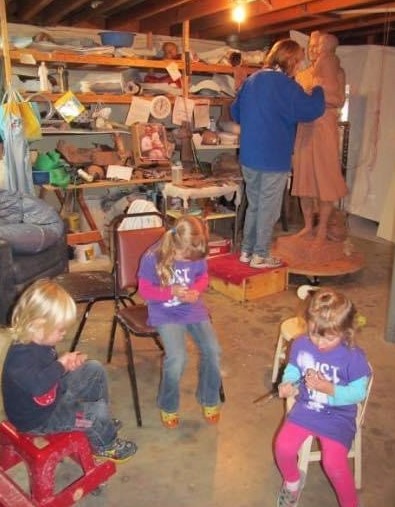 Grams was claying and we were claying.